Irene first served this cocktail at the book club's discussion of "On the Road." We've since requested it at bars and made at home. Several times. It's adapted from David Wondrich, cocktail historian and writer extraordinaire. According to Esquire, for which Wondrich is a cocktail correspondent (how do you like that title?), the drink was originally created for The Chickenbone Cafe in Williamsburg, but revived for a Halloween article, mostly because of its name. I think it's tasty any time of year.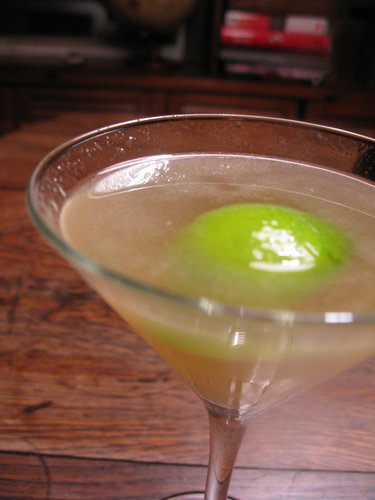 The recipe, after the jump.
The Bone
Recipe adapted from David Wondrich
2 ounces Wild Turkey 101 rye
1 teaspoon fresh lime juice
1 teaspoon simple syrup
3 dashes Tabasco sauce
Fill a cocktail shaker with ice. Add the remaining ingredients and stir well. Wondrich says to strain into a tall shot glass, but we prefer a cocktail glass. (Does that make us less manly?)
One year before: Organic and local at the Hungry Hollow Co-Op.
Two years before: Cocktail recipe: Salty Dogs.
Three years before: The girls at OVI.
Four years before: Thai Red Curry with Shrimp.
Five years before: The Super Bowl at OVI.